TattsLotto was created by the state of Victoria government and later conducted by Tattersall's. The original goal of the lottery game was to help raise additional funds for the national health system. The first draw, which was televised on HSV-7 Melbourne, was held on June 24th, 1972 with a first division prize of AUD $50,000.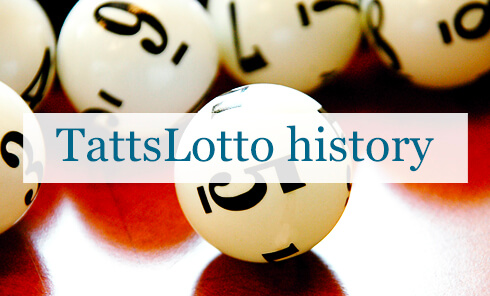 With time, the game became popular all over Australia but with different names - TattsLotto in Victoria, Tasmania, Australian Capital Territory, and the Northern Territory; Gold Lotto in Queensland; X Lotto in South Australia; Lotto or Saturday Lotto in New South Wales and Western Australia.
TattsLotto was the first ever lottery game in Australia, which offered players a chance to win prizes with numbers they had picked themselves. It was originally based on European style lotteries, where six random numbers were selected from 1 through 40. Each week, six numbers along with one supplementary number were mechanically drawn from a barrel and broadcasted live on television. Each draw was witnessed by three officials, one of which was from Tattersall's and two were representatives from the government. After 13 years of the lottery game, some changes were made to it.
Starting from draw numbered 413, which was held on July 6th, 1985, changes were made to create new prize categories and different ways to win. Also, the chances of winning were decreased. Instead of drawing six random numbers between 1 and 40, six random numbers between 1 and 45 were drawn. Also, an extra supplementary number was added to the game making it a total of two supplementary numbers compared to the previous one supplementary number.
Up until the 80s, when the game was computerized, agents/sellers were needed to validate the lottery tickets. Basically, the ticket, which consisted of an original copy and a carbon copy, had to be presented to an agent/seller who would validate it. The ticket was validated by being inserted into a designated cash register. After validation, the copy would be given back to the player and the original ticket would be kept by the agent/seller and later passed on to Tattersall's. As you can imagine, this was quite a long process, which is why after computerizing the agents/sellers in the 80s a few things changed - randomly selected computer-generated tickets were available for purchase, later closing time was allowed for each draw, more games to be purchased per draw, and etc.