Set For Life offers a different approach to Australian lotteries. Instead of offering one big jackpot for the winner, they offer just as the title suggests - to be set for life. First Division winners of the lottery game receive a fixed amount of AUD $20,000 every month for 20 years. That's a total of AUD $4.8 million in the span of two decades! The lottery game has literally changed lives for so many Australians and here are a few success stories.
Stafford Woman Wins First Division Prize In Set For Life On January 12th, 2018 a Stafford woman was the lucky First Division winner for Set For Life. She had just won AUD $20,000 every month for 20 years and was absolutely in shock when she received a call from a Golden Casket official: "No way!? Oh my god! Are you serious? 20,000 a month for 20 years? I've won Set for Life! I've won! I can't believe it!" she screamed while her family was celebrating in the background. "I think I'm going to have a heart attack, you have no idea what that's done, you've got no idea!"

When asked how the lucky woman was planning on spending her money, she said she will still have to think about it. But two things are for sure - holidays and retirement!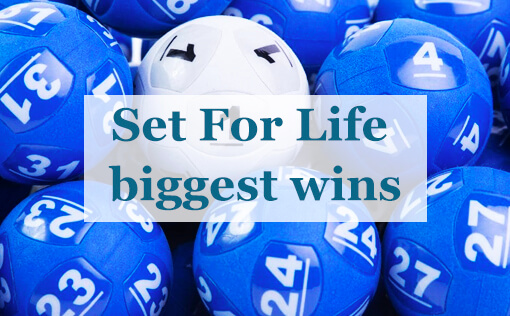 Langwarrin Family Woman Wins Set For Life - Twice! One lucky Victorian woman bought two identical Set For Life tickets for her 19th wedding anniversary - one for her husband and one for her. Little did she know that those tickets held the lucky numbers for the upcoming Set For Life draw. She received the best wedding anniversary gift ever - to be Set For Life - doubly! This means that in the span of 20 years, she will receive a total of AUD $9.6 million!

"We don't really do much for our wedding anniversary these days so I thought why not buy some Set for Life tickets and that could be our present," the woman told a Tatts official. "We used marked numbers that include the dates of our wedding anniversary and kids birthdays – special dates that's what they are." Well, we must say, they sure were special numbers!

When asked how she was planning on spending her AUD $40,000 every month for 20 years, the woman explained that she will be paying off a few debts, getting a new car, and planning a holiday: "Ever since we got married it's been our dream to go to Port Douglas. We've never been able to but that's something we can certainly look at doing in the future."
Fairfield Man Plans To Embark On A New Future After Winning Set For Life On November 22nd, 2017, a Fairfield man, aged in his early 30's, was the lucky winner for Set For Life. After he was called and informed about his win, the man was momentarily speechless but later started talking about how he was planning on using his money. "There are so many things I can do now — I don't know where to start," he said. "I'll still work but I want to open my own business and buy a house. It'll be great for me and my family. It sets me up for the future." Sounds like a great plan to us!