The guaranteed minimum jackpot in Australian Powerball is AUD $3 million. However, the jackpot often rolls over, resulting in an even larger amount of money in the next draw. It has even reached AUD $100 million a few times!
The Largest Jackpot In The History Of Australian Powerball: The biggest jackpot in Australian Powerball history was AUD $107 million, which was won by a single player on January 17th, 2019. The lucky winner was a mother in her 40's who had purchased a 12-game entry ticket online. She said the decision to play was completely a spur-of- the-moment decision made just one day before the draw. As for putting her lucky money to use, the woman said she would share it with family, give some to charity, and use the rest for doing all the things she had ever wanted, such as traveling and buying a caravan. She also added that she was not planning on retiring from her job as a healthcare professional.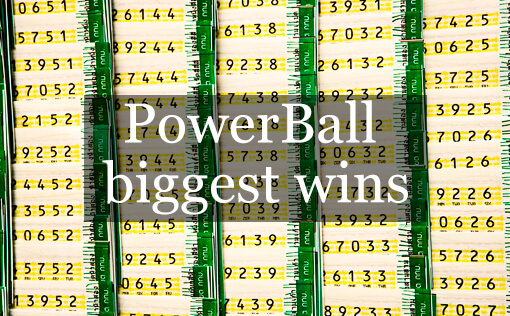 Other Big Powerball Winnings:
AUD $100 Million On August 16th, 2018 the Powerball jackpot had climbed up to AUD $100 million for the first time ever. During this draw, nearly 1 in 3 Australians purchased tickets for the game. Not to mention, there were long queues formed outside of news agencies and after the draw, even lottery websites crashed due to the huge number of players trying to check their numbers.
The record-breaking prize was won by two lucky players, each of who got a share of an impressive AUD $50 million. The two winners were from Sydney and Melbourne.
AUD $80 Million Up until the previous jackpot in 2018, AUD $80 million was the largest Powerball jackpot Australia had seen. It was won by two lucky ticket holders on July 30th, 2009, one of which was from Sydney and the other - from Melbourne. The winner from Sydney said she would use her half of the money to invest and donate to charity. The winner from Melbourne said that, other than helping out his kids, he will still think wisely about where to use his jackpot money.
AUD $70 Million AUD $70 million was won two times in Australian Powerball history - once on January 7th, 2016 and the other time on August 21st, 2014. The winner on January 7th, 2016 was a couple from Hervey Bay who said they will be giving some of the money to charity, to their family and using some to travel to Europe and the USA. This was the largest Powerball prize ever won with a single lottery ticket.
The jackpot winners on August 21st, 2014 were from Queensland's Sunshine Coast and Western Sydney. The Queensland winner claimed she would share some of the money with family and was not sure what she was going to do with the rest. The winner from Western Sydney was a 15- member syndicate. Each of them walked away with AUD $2.4 million.
AUD $62 Million Two lucky ticket holders split the jackpot of AUD $62 million on May 2nd, 2013. One of the tickets belonged to a 15-member syndicate from Cheltenham, Melbourne. Each of the members had spent AUD $13 on tickets and received just over AUD $2 million. The other winner was an unknown ticket holder from Sydney.
AUD $60 Million A retired man from the Gold Coast was the lucky ticket holder on the draw of November 8th, 2018. According to Powerball.net, the man, who decided to stay anonymous, claimed that: "I'm retired, but I'm young enough that I will still have plenty of time to enjoy it."