Launching on February 26th, 1994, Oz Lotto was Australia's first true national lottery game and it has been going strong ever since. Though it was not the first lottery game to ever launch in Australia. Saturday Lotto launched earlier, however, South Wales did not participate in it, therefore Oz Lotto was given the title of the first truly national lottery game in Australia.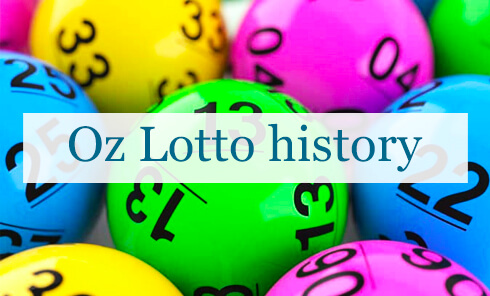 Oz Lotto is owned by Tatts Group and administered by its lottery brand "The Lott" in all Australian States except for Western Australia. In Western Australia, Oz Lotto results is administered by Lotterywest.
For the first two decades, Oz Lotto was the same as Saturday Lotto, where only six winning numbers between 1 and 45 are drawn. However, in 2005 they changed things up a bit. Since October 18th, 2005, a seventh winning number has been added to the draw. This did not affect the minimum prize level, which requires to match three winning numbers and one supplementary number. The minimum prize level has remained unchanged, therefore leading to a total of seven prize divisions. However, the odds of winning a First Division prize greatly lengthened after this change. Now, the odds of winning the grand prize with a single game are 1 in 45,379,620.
This change of adding a seventh number to the game also affected its branding. In most Australian States, the name of the lottery game was changed to emphasize the seventh number added to the draw. For example, in Tatts regions, Oz Lotto was changed to Super 7's Oz Lotto. In Queensland, the name was changed to Oz 7 Lotto. However, these changes didn't last long. In 2012, they reverted to the original branding of Oz Lotto.
Oz Lotto is known to offer some of the biggest prizes in history. The largest jackpot ever won in the Oz Lotto history and in the history of Australian lotteries is AU$111,972,151.04, which was won on November 6th, 2012. During this draw, nearly 1 in 2 Australian adults purchased tickets for the game. The grand prize was shared between four winners. However, that was just one of two Oz Lotto jackpots that exceeded AUD$100,000,000. In 2009, the Oz Lotto jackpot was AUD$106.5 million. Two winners shared the jackpot and received around AUD$53 million each - making that the largest Oz Lotto win by an individual.
In 2013, it was estimated that a total of AU$5,643,952,542.99 had been won by players of Oz Lotto since the game started. That's over AU$5.6 billion in prize money! Over 19 years, there had been 120 million Oz Lotto winners - that's around five times the entire population of Australia! 448 of those winners became new millionaires thanks to the game!